A look behind the eyes: what your eye doctor sees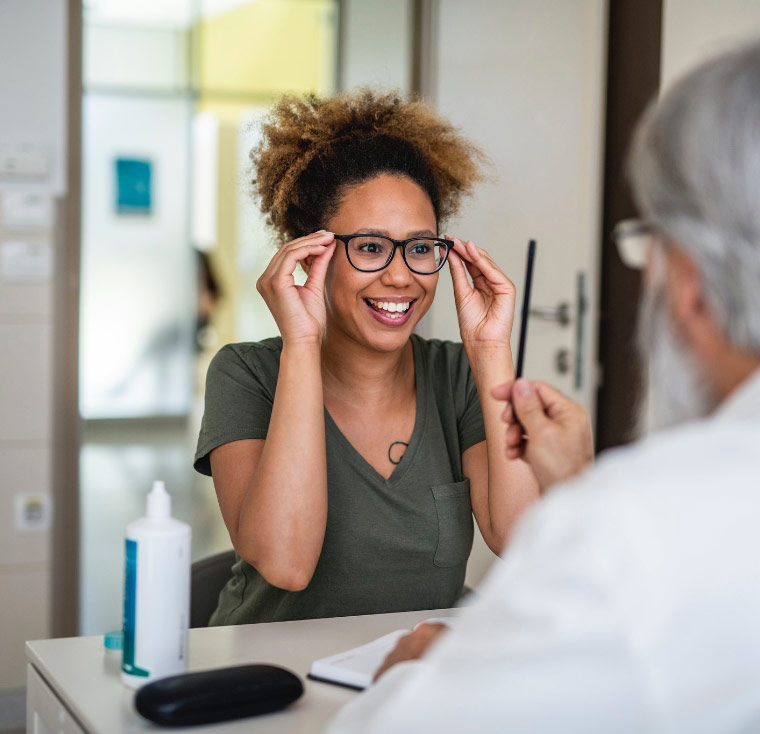 You may be able to read a street sign clearly from 100 paces away, but good vision doesn't always guarantee good eye health. Diabetes, high cholesterol, high blood pressure — these are among some conditions eye doctors watch out for when looking deep into a patient's eyes.
A comprehensive eye exam includes lots of tests to detect not only changing vision, but also the telltale signs of issues that can compromise overall health. But what exactly are these signs?
According to the eye care experts at Pearle Vision®, here are the revealing symptoms of 3 serious conditions a comprehensive eye exam can catch.
Diabetes
Diabetes, a group of diseases that result in high levels of blood sugar, is a leading cause of blindness in American adults.1 About 1/3 of diabetics older than 40 experience signs of vision loss,2 yet only half of all people with diabetes regularly visit their eye doctors.3
What the doctor sees: The doctor gives the patient eye drops that dilate the pupils and open up the eyes so the areas behind them are visible and can be examined. If diabetes is interfering with the eye's function, the doctor may detect: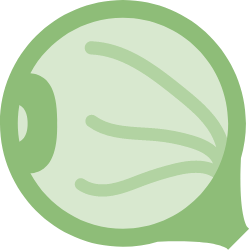 Normal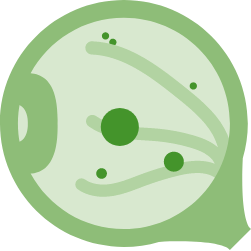 Diabetic
Blocked, swollen or leaking (bleeding) blood vessels;4
Damage to the retina (the light-sensitive tissue at the back of the eye) and/or optic nerve in the forms of swollen nerve fibers, tiny bulges in vessel walls, spots or dark strings (often called floaters) and/or bleeding;5,6
Clouding of the eye lens, or cornea, which can signal cataracts.7
For those who prefer to avoid eye drops, some doctors offer imaging or retinal scans that produce detailed photos of the retina, which the doctor can review with scrutiny.
HYPERTENSION
High blood pressure can alter the behavior and condition of the delicate blood vessels behind the eye. Beyond vision, catching it early is crucial, because high blood pressure could lead to stroke and/or heart attacks if not treated.8
What the doctor sees: High blood pressure, or hypertension, can damage and/or swell the blood vessels supplying blood and nourishment to the eyes. This can result in:9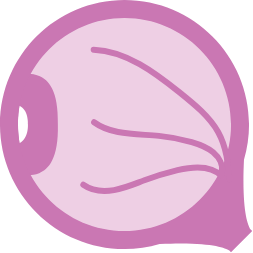 Normal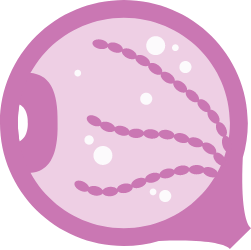 Hypertensive
Lack of blood to the retina, indicated by pale or white areas;
Flame-shaped hemorrhages or bleeding in the eye, which can damage the retina and cause vision loss;5, 10
Thickening of the small arties;
Swollen optic nerves, due to blocked blood flow, and/or kinked and twisted blood vessels in the retina.11, 12, 13
HIGH CHOLESTEROL
People with high cholesterol may be at higher risk of developing glaucoma, a condition that occurs when pressure damages the optic nerve.14 Glaucoma is the second leading cause of blindness.15
What the doctor sees: During a comprehensive eye exam, the eye doctor will look both outside and inside the eye for these symptoms: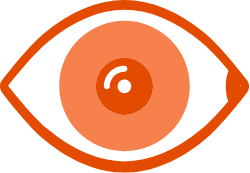 Normal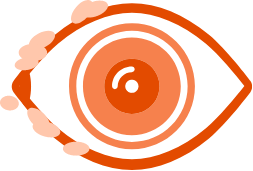 High
Cholesterol
A thin white or bluish-gray ring around the cornea, formed by deposits of fatty substances;16
Bright, yellowish dots or crystals that indicate cholesterol plaque buildup from fat that had broken from blood vessels and travelled to the eyes;17, 18
Soft, yellow lumps on the upper and lower eyelids and in the corners of the eyes;19
Blood vessels in the retina that have hardened. 20
Eye doctors use specialized equipment to see into the eyes with greater clarity than a family doctor.21 For a fuller picture of health, we recommend everyone schedule a regular comprehensive eye exam around the same time as their overall physicals. EyeMed members can choose from thousands of in-network options, including popular retailers, independent eye doctors and neighborhood eye care centers, like Pearle Vision, where you can take care of your eyes and select from a variety of designer frames and state-of-the art lenses. Find one at eyemed.com today; it could be just as important to detecting and diagnosing serious health issues as keeping your vision sharp. There are also a few ways you can continuously take care of your eyes in addition to getting your annual eye exam. Pearle Vision has a few tips here on how to make caring for your eyes part of your daily routine.
LEARN MORE